Emergency Dental Care & Same Day Dentistry Services Clinic
If you're experiencing pain or need emergency dental services, we will find the earliest available, Grand Family Dentistry.
Toothaches or Oral Pain Keeping You Awake?
Same day dentist services are for patients experiencing severe dental pain and problems. Instead of suffering until a general appointment becomes available, you can contact us to schedule same day dentistry service to relieve your suffering. Not only do you feel better, our same day dentist services are much less expensive than visiting the ER.
A bad toothache can keep you awake, prevent you from going to work, and leave you feeling pretty miserable. Visiting our office can help ease this pain and find at least a temporary solution until further, more complicated dental work can be performed.
In addition to treating tooth pain, same day dentist services are ideal for:
Broken and Displaced Teeth
Cracked and Fractured Teeth
Avoiding the Emergency Room

Trips to the emergency room for dental pain are very expensive. Some patients pay nearly $1000 for an ER visit and this rarely includes anything more than a prescription for pain medication and a referral to a dentist.
Doctors and other medical professionals on duty are not able to perform dental treatments. Unless you manage to find an emergency room with a dentist on duty, your visit will result in little more than an expensive bill. There are ways to ease the pain until you are able to visit our office. These tips may reduce your pain for a few hours, which can be enough to get you through the night or your workday.
When you begin to feel pain, brush and floss your teeth. Pain is increased when food particles are left between the teeth to irritate the problem. Take a mild over the counter pain killer if they are safe for you, but never apply anything directly to your gums or teeth. Remember, even if pain subsides, you still need to schedule an appointment.
When you SHOULD visit the emergency room
If you experience an injury that causes cuts, swelling, or bone breaks, a visit to the emergency room is the right decision. You might still need a follow-up dental visit, but the immediate concern is treating the emergency. If you believe you have an infection in your mouth and the symptoms increase in severity, you might also wish to visit an urgent care center or ER. Infections can spread rapidly and affect your overall health if not treated.
Related Dental Emergencies Articles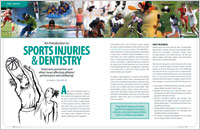 An Introduction to Sports Injuries & Dentistry
Dental injuries incurred during sports activities are highly treatable, and can involve positive outcomes if participants act quickly to see a dentist after an injury. However, if not treated quickly these kinds of injuries can lead to discomfort, embarrassment and a lifetime of dental costs… Read Article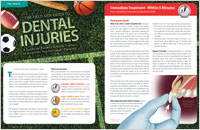 The Field-Side Guide to Dental Injuries
Accidents to the teeth, jaws and mouth can happen at any time during any sporting activity. Proper attention can save pain, alleviate anxiety and costly dental treatment. A little knowledge, as they say, can go along way. This field-side guide briefly explains some simple rules to follow when dealing with different dental injuries and when you need to see the dentist… Read Article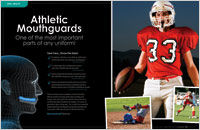 Athletic Mouthguards
There are times when an athlete can feel invincible… able to connect on every jump-shot, run faster and longer, or hit every pitch, but statistics show that even on their best days accidents can happen. An ounce of prevention goes a long way… For a small cost, a protective mouthguard can prevent excess anxiety, risk, injury, pain, suffering, and years of dental treatment… Read Article