Six Month Smile Clear Braces & Healthy Smiles Dental
A revolutionary combination of proven orthodontic techniques, modern materials, and innovative thought – Six Month Smiles® utilizes specialized clear braces to gently straighten and align teeth in an average time of just six months.
What is Six Month Smiles® Short-Term Orthodontic Treatment?
Six Month Smiles® is one of the latest developments in cosmetic dentistry. It utilizes modern materials and orthodontic techniques to straighten and align teeth in as little as six months. It is one of the most effective short-term orthodontic solutions available.
Most orthodontists agree that braces are the most effective solution for correcting a problematic smile. Patients wear braces to improve their smiles and the health of their teeth. However, braces must be worn for years to achieve their goal, which can be inconvenient and expensive, especially for adults. Six Month Smiles® achieves the same effects of braces, but in a much shorter time. It is an ideal solution for adults that want to correct dental problems, but have no desire to wear braces beyond adolescence.
Six Month Smiles® utilizes the patented Lucid-Lok clear bracket and tooth-colored wire system. This means the system is barely noticeable, even as it works to improve your smile. The system also uses the Six Months Smiles® Patient Tray Kits, so appointments are efficient and pain-free. Six Month Smiles® is usually less expensive than traditional braces or veneers and is safe and more hygienic than traditional adjustment methods.
How do you know if Six Month Smiles® is the right option for you?
If you are unhappy with your smile, but you have no interest in wearing braces as an adult, Six Month Smiles® might be the right option for you. The system is also a great alternative to veneers and other expensive cosmetic procedures. Experiencing anxiety or a lack of self-confidence because of your teeth or smile is something nobody should be forced to deal with. If you are curious about Six Month Smiles® or would like to know if it is the best option for you, contact us to schedule a consultation and discuss your options.

Related Orthodontic Articles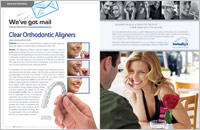 Clear Orthodontic Aligners
The orthodontic treatment using clear aligners consists of a series of aligners that you change about every two weeks over a course of treatment lasting six to eighteen months depending on how much movement is needed… Read Article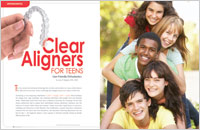 Clear Aligners for Teenagers
Teens who regard traditional braces as restrictive, confining, and obstructive to their lifestyles now have another choice for orthodontic treatment: clear aligners. This advanced dental technology, originally geared toward adults, has recently evolved to treat a greater variety of bite problems in younger people. These improved orthodontic appliances can help teens function normally during a difficult phase of life… Read Article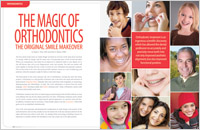 The Magic of Orthodontics
Proper alignment of the teeth is basic to "Smile Design." Their position dictates how they work together and affects the way you look and smile. Only orthodontic treatment can move teeth into the right position. Simply put, when things look right, they probably are right. Learn the basics of smile analysis and design and whether the magic of orthodontics will work for you… Read Article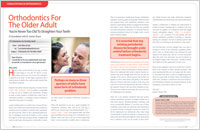 Orthodontics for the Older Adult
Healthy teeth can be moved at any age, so there's no such thing as "too old" for braces. In fact, nowadays about one out of every five orthodontic patients is an adult. Yet this figure represents only a small portion of adults who could actually benefit from orthodontic treatment… Read Article